Concrete Cutting and Core-drilling
Core drilling is the process of drilling of circular holes in reinforced concrete, precast concrete, CMU, asphalt, brick and other structural materials. These holes are usually used for electrical, mechanical, plumbing, sewer and sprinkler installations. At Tri-state Concrete Scanning, we use core bits made from diamond segments that are mounted on a rotating shaft powered by a rig mounted drilling machine or a hand held drill. Our core bits can be drilled at any angle and great depths can be achieved. We service all size jobs from large to small and every job is completed to our customer's satisfaction and cleaned up.
We also offer wire-sawing, flat-sawing and wall-sawing services to our customers. Our saws are both electric and gasoline powered and vary from 12 to 80 horsepower. After sawing, cutting or drilling is complete, sometimes, there is still a need to chip and remove areas that were cut out. For this purpose we use anything from jackhammers to cranes to meet our customers' concrete cutting needs and schedules.
Some of our specific services include: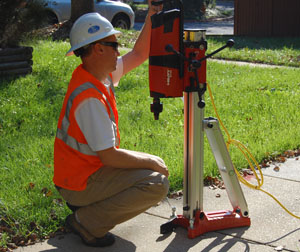 Core drilling holes from 1" diameter to 12" diameter
Hand sawing and chain sawing of concrete
Breaking, chipping / demolition and removal of concrete
Wall sawing and wire sawing
Flat sawing (gas and electric)
Concrete Grinding
Why chose us?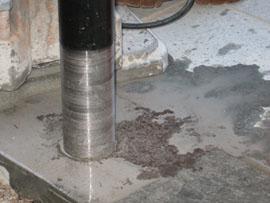 We guarantee to be at your site ready to work within 48 hours of your initial service call.
We only use the best technology available in the market for accurate concrete cutting and drilling.
Both day rate and contract rates are available.
We are available to work regular hours as well as after hours and weekends with prior scheduling.
We are a one-stop shop - we do concrete scanning, cutting and clean-up.
We will provide you with reference from our past work so you can make an informed decision when you pick us.